Jeffrey T. "Jeff" Ronald (LTC)


PLEASE CONTACT THE SCRIBE FOR COMPLETE ADDRESS INFORMATION


---
Sharon and I have been married for 30 years (14 Dec 68). We have 2 children (although at their ages the proper term is probably off spring). Sandra will soon be 34. She and her husband live in West Hills which is a suburb of LA and is in "the valley". She is a practicing attorney and her husband Geoff is a self-employed actuary. They have a daughter (Madeleine) who just turned 4. My son, Kerry, will hit the big 3-0 in July. He and his wife Diana live a couple of miles down the road from Sharon and I here in Oceanside CA. He and his brother-in-law have their own company (computer software) and are doing really well. No kids yet for them.

I spent just a tad over 20 years in the Marine Corps, retiring in the fall of 1988. As an Infantry Officer, I did a lot of different things in many parts of the world. I did 2 tours in Vietnam (one as an advisor to the Vietnamese Marine Corps) , spent 3 years stationed in Karachi, Pakistan and spending the entire time traveling between Morocco and Bangladesh (and all points in between ). Believe it or not this was the one overseas tour that was accompanied. Sharon and the kids enjoyed Pakistan after they got used to it.

It gave us an opportunity to travel and we did.....to Nepal, India, Afghanistan, Israel, Egypt, Yemen, etc. I also did a one year tour with the Korean Marines, and a variety of other short tours in other parts of the world. I went to Army jump school at Ft Benning, spent some time with the Special Forces at Ft Bragg, and finished my career in Coronado Ca, with the Seals. I retired as a Lt Col and almost immediately went to work for the Home Depot. Currently I'm a manager at the Sports Arena store in San Diego.

I'm enclosing a picture of a group of us that was taken sometime near the end of our senior year.
---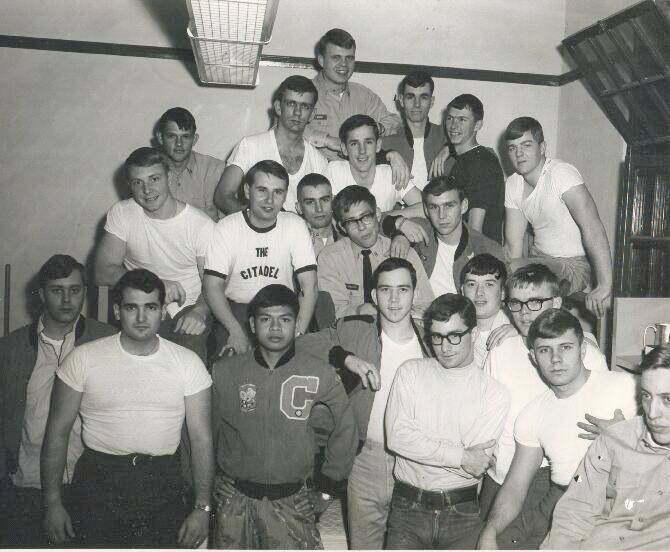 ---
Return to H Company Virtual Reunion